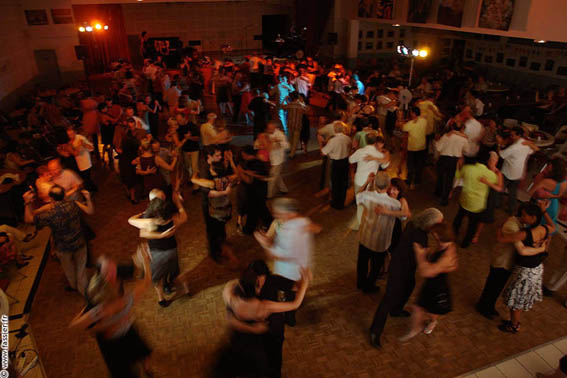 Daily evening dance from 21.30 to 2.00
in Prayssac's "salle des fêtes" (festival hall)
,
On Sunday (July 28th) 18.00-20.00
open air "apéritif", animation and milonga
with Prayss'accueil
Wednesday off (no classes)
with several activities available, according to your choice
Special evening buffet dinner and tango dancing
with maestros' demonstrations
each Friday (July 26th and 2nd)
from 21.30 to 5.00 in Prayssac's "salle des fêtes" (festival hall) ,
Brunch despedida on Saturday morning
(July 27th and 3rd)
organized by our association LE TEMPS DU TANGO,
with the support of Prayssac's town council and Tourist office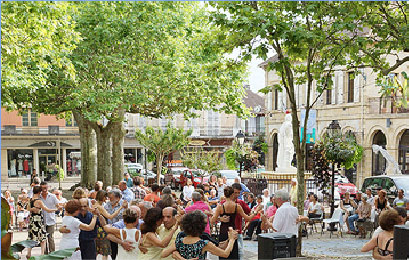 Exhibitors on the festival
Raquel shoes, manufacturer in Buenos-Aires
from Saturday 20th to Saturday 27th of July
Sam Buenos Aires
Sunday 28th and Monday 29th of July
Vêtements créations Bernie H
from Friday 26th to Wednesday 31th of July
Musicargentina
from Wednesday 24th to Monday 29th of July
from 20th to 27th of July and
from 27th of July to 3th of August
Daily classes in tango, argentine valse and milonga
five days (from Sunday to Friday, Wednesday excepted)
with the maestros
Céline Ruiz & Damian Rosenthal
Valeria Cuenca & Fernando Nahmijas
Veronique Guide & Julio Luque & Natalia Vicente
Clarissa Sanchez & John Erban
with the orchestra
La Orquesta Triptica with Maria Belen
25, 26, 28 and 29th of July

PLEASE NOTE
You can book your accomodation (hotel, guest house or "gîte" or camping-site) as soon as you please. Our association doesn't pre-book , except for accomodation at the "Clair Foyer" reserved for tango packages, two courses minimum.
You will find useful links towards Prayssac and Puy l'Evêque tourist offices on our page accomodation







Old brochures can be found in history.