Monthly initiation workshop of argentine tango in Paris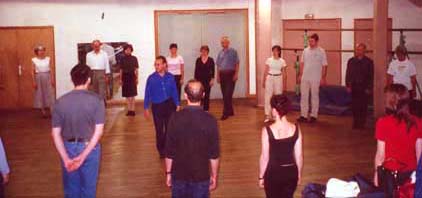 This initiation workshop is mandatory for all persons having no knowledge of argentine tango or wanting to revise the basics.
The tango that is taught corresponds to the tango commonly practiced in balls and not to stage/show tango. More than the determined apprenticeship of figure, it has for goal to teach the different notions allowing the dancer to dance with any partner (transfer of body weight, balance, specific role of each dancer in the couple, management of the dance space, respect of the rythm, etc...).
The acquisition of these basic notions prepares the dancer to join a beginner course (first level).
For this workshop it is preferable but not indispensable to come to the workshop in a couple. You can also have a look on
our Tango Partner ads
---
When ?
This initiation workshop takes place over two sessions, the first two afternoons sunday of each month (first session, 4 hours from 14h to 18h 1st sunday of the month; second session, 3 hours from 14h to 17h, on 2nd sunday of the month).
It is not possible to follow solely the second session, without having followed the first session.
These workshops take place each month.
Price list
55 € (individual)
50 € (students or couple subscriptions per person)
These prices include the annual
membership fee
to the association.
How to register ?
It is equally recommended to register in advance by phone, or by e-mail. Registrations must include a cheque for €20 (deposit)/person or full payment for the workshop addressed to Le Temps du Tango.
We limit the number of registrations to 30 participants.
Who are the teachers ?
Two couples : Danielle and Luis, and Catherine and Pierre, intervene alternately in teaching.
Where ?
OEPF - 5 rue du Moulin Vert Paris 14ème - métro Alésia.
What equipement ?
In winter take a pullover, to be sure to be warm enough.
Wear comfortable clothes and maleable shoes that are comfortable and hold correctly the foot (no sandals, tongs, or shoes of randonné!). It is preferable to wear shoes soled leather. Avoid rubber soles that do not slide and cause strain to the joints.
Specialized shops sell shoes that are particularly comfortable for tango dancing. See
membership
.
---